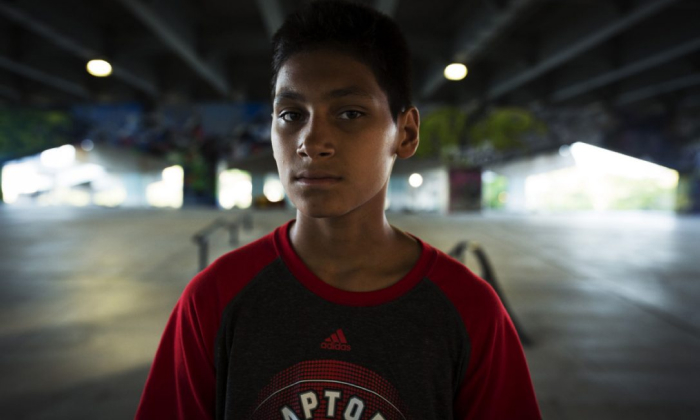 Xzavier Hansell's success shows how it takes a village to connect beats to learning.
The auditorium was so packed, people stood to watch from the aisles: a horde with upturned eyes, and all of them staring at Xzavier Hansell.
He says he wasn't shaken by it, but that's hard to believe. Or maybe it isn't. After all, months of practice and music lessons had led to this moment, extra time at school and sessions on how to rhyme with smooth precision and impact.
The 13-year-old from Saskatoon took his spot centre stage, and a driving beat kicked in through the sound system. Xzavier raised a microphone to his mouth — and started rapping:
"Global warming got them animals deranged; it's time to put a stop to all this climate change!"
The place erupted.
"I just zoned out — well, not zoned out," Xzavier, now 14, recalled months later. "I just thought of my lyrics and I rapped and I guess hyped up the crowd a bit. I dabbed. Everybody went crazy. My voice kept getting louder and louder and then I just finished.
"It was just like, wow that's crazy. It was good though."
If he ever climbs to the upper echelons of rap music — which his biggest fan, his 31-year-old mother, expects is inevitable — that day in April will be remembered as Xzavier's first step. Video shot by his teacher shows someone in command, spitting his rhymes with thespian clarity while strutting and waving jauntily. He was awarded first prize in the Toronto iteration of Science Genius, a hip hop competition founded in New York City that combines science subject matter with the art of rapping.
That he did so, according to his circle of advocates, exemplifies the power of a gathering educational movement to incorporate hip hop and its aesthetic and culture into classroom subjects such as math, science and literacy.
"It was not him winning," explained Xzavier's teacher, Sharla Falodi. "It was the fact that he was so engaged with the science concepts. He had to deeply, deeply understand."
It was unlikely for Xzavier, whose life revolves around the twin passions of hip hop and basketball, to claim the mantle of Science Genius.
But that's exactly the point.
Paris Hansell raised a manicured finger toward her son, who was guarding an older kid on a graffiti-encircled basketball court beneath an east-end overpass. "I want to focus on this one," she said, "because he's going to be rich."
Xzavier has been the vessel of her dreams and affection for more than 14 years, ever since she found his name in a DMX song while pregnant. When he was born in July 2002, she was a 17-year-old high school dropout living in a Saskatoon foster home. Paris said Xzavier's Cree father, from the Red Pheasant First Nation, was never a significant presence in their lives. But he did bestow an aboriginal identity on his son, who moved with his mom as a young boy to Ottawa, where Paris worked as a Reiki spa therapist for several years.
Life in Ottawa eventually turned sour, the main reason being that Xzavier was bullied at school. Paris said kids would laugh at his hair, which he'd grown his whole life and wore in a long braid, and make "Indian noises" with their mouths. "It was like racist bullying, hardcore," she said.
The situation prompted her to Google "First Nations School," and she learned the Toronto District School Board has such a facility right downtown. They dropped everything and moved to the big city. Xzavier enrolled at the First Nations School for Grade 7 and 8.
Xzavier, who has since cut his hair into a well-coiffed pompadour, walked over to join his mom after his bout on the basketball court. "It's a big part of my self, my identity," he said, and then paused to think.
"I haven't rapped about that yet."
It's a chicken-and-egg thing, the music in Xzavier. On one hand it's in his blood: Paris's father is a salsa and soul musician in Vancouver, and Paris herself sang hooks for rap recordings when they lived in Ottawa.
It's also been nurtured by his mother, who curated Xzavier's playlist through childhood; hard stuff like the Wu Tang Clan, Ice Cube and Tupac, but also more melodic numbers from the likes of New Edition and Whitney Houston. And Michael Jackson. Little Xzavier was "obsessed" with Michael Jackson.
He brought all that with him to school in Toronto, where this propensity for musicianship was quickly noted. Teacher Falodi, 28, took an early career interest in the idea that music — particularly hip hop — can help connect otherwise ambivalent kids with learning.
When Xzavier was in Grade 7, she connected with Joseph Harsco, an avid lover of hip hop who now does music programming with Falodi's class every week. His seminars are aimed at urban indigenous youth, focusing on how they can connect with the music, visual art, dancing and lyrics from the hip hop realm.
"For some students, they don't necessarily connect with the curriculum of mainstream education," Harsco told the Star recently. "It's just trying to make learning important."
Chris Emdin has been making that push for more than a decade, focusing on hip hop as a means to spark kids' confidence and introduce a path to education that may be more enticing. Six years ago, he founded Science Genius, essentially a rap battle where students pen rhymes and perform songs. Obviously, the subject matter has to be drawn from the student's science curriculum.
"They're not just rapping but they understand what they're rapping about," said Emdin, 37, a professor at the Columbia University teacher's college.
"There's also a bit of a political statement," he continued. "You can be from where you're from, and listen to the music that you do, and not necessarily be the most wealthy person in the world, but you have something that's edifying and something that's academically rich to offer the world."
Harsco said he brings that same philosophy in his seminars. Last year, when he first started visiting Xzavier's class, a few of the kids put together a music video on the Seven Grandfather Teachings, concepts about living a good life from the Anishinaabe culture. "Even from that video, I was like, man — this kid can rap," he recalled.
Harsco wasn't the only one to take notice. Through his Grade 8 year, Falodi brought Xzavier and his class to the Regent Park School of Music, where they took lessons on piano and other instruments. Zebulon Barnow, who teaches there, worked closely with Xzavier; they would go aside during sessions for lyric-writing sessions and to play with making beats.
"He found me and sought me out," Barnow said. "He would come in and say, 'I'm doing something that has NWA … I want to do that and I'm going to make it happen.'"
Meanwhile, Falodi kept watch for opportunities to use music to help her kids learn. In February, she received a message on a hip hop educators' email list about a Science Genius competition at STEMposium, a hip hop education symposium. The lead-up to the conference included "Spit Camp," where local rapper Rich Kidd and producer Motion would be on hand to teach kids about writing to a beat.
"I've got a lot of kids in here who are not feeling the traditional way of science," Falodi said, who brought several kids to the camp. "They loved it. They were like, 'What? I get to do this for school?'"
At the end of the session, kids were invited to perform what they'd written during the day. Xzavier was shy, but Falodi said she forced him to go up and perform, too. "That was the first time he spoke out loud and shared his rhymes with people. When he left he was like, 'Oh I sucked.' … I wanted him to get all those nerves off."
The experience was a lesson, to show Xzavier how much preparation he would need to succeed. Over the next weeks, she would bring him to the library, blast music and tell Xzavier to "go crazy" and pretend he had a mic in his hand. She wanted to expunge his shyness.
At the Science Genius competition in April, Xzavier went up against high school kids. On stage that day at the Central Tech high school auditorium was a panel of judges including hip hop luminaries such as Emdin, rapper Rich Kidd and Noah "40" Shabib, Drake's producer.
Falodi took it all in near the front of the audience. And Xzavier won.
"He was shocked, absolutely shocked," Falodi said. "I think he was really surprised to see how much of a learning curve happened."
After the contest, Xzavier was invited to perform at the main Science Genius event in New York. Paris agreed to let her son travel, and Xzavier took his first-ever airplane ride with Harsco and Falodi to the Big Apple. They went to see the World Trade Centre site, Times Square and Central Park, but Falodi recalled Xzavier being particularly excited to hear Drake's music bursting from a taxi-cab radio. "Oh my God, people in New York love Drake!" he exclaimed.
That night at Science Genius, Xzavier performed a capella, and again the crowd loved him — especially when he dropped the line "Squirrels used to be skinny like sticks, now they're getting fat because of climate change in the Six!"
"He was like, 'I can't believe they got that punch line!" Falodi recalled with a laugh.
While she saw Xzavier learn and grow through his involvement in Science Genius, Falodi said she hopes he can carry the experience into high school, which starts Tuesday.
"There's a larger world than this school that he's spent so much time in," she said. "I don't know what he's going to do with his talent moving forward, but this program has made him for once take his talent seriously."
He might see it like that one day, but for now, Xzavier sums up the whole experience in the succinct manner of a teenage boy.
"It was awesome," he said.
This post was written by am